Porn addiction refers to a person becoming emotionally dependent on pornography to the point that it interferes with their daily life, relationships, and ability to function. This type of addiction may be quite common. Some doctors consider porn addiction to be a hypersexual disorder — an umbrella term that includes behaviors such as excessive masturbation.
It's important to note that "porn addiction" isn't an official diagnosis recognized by the American Psychiatric Association (APA). But experiencing an uncontrollable compulsion to view porn can be as problematic for some people as other behavioral addictions. Since the existence of "porn addiction" is not recognized by the APA, no definitive diagnostic criteria guide mental health professionals in its diagnosis.
SIGNS OF PORN ADDICTION
1. You Can't Stop
You are unable to stop using or viewing pornography, despite trying to do so. If your partner can't stop, you may notice that they are spending more and more time on the internet despite your attempts to communicate with them.
2. You Want More
People addicted to porn report that they do experience cravings to view more. Similar to how someone can be addicted to heroin, people who suffer from porn addiction will feel cravings if they have gone without it for any amount of time. If your partner is craving porn, you may notice them sneaking away from you to another room. It's possible that they'll make an excuse or get defensive when you question them about it.
3. You've Lost Time
People suffering from porn addiction can lose large periods of time to viewing porn, wasting most of the day without accomplishing anything. You could notice that someone addicted to porn is lethargic and not accomplishing much as of late. They might seem like they don't care or are very uninterested in anything else.
4. You've Lost Interest in Sex
When someone becomes addicted to porn, they actually lose interest in real sex. Not only that, but they actually find their partner less attractive when compared to the people seen in porn. People who suffer from porn addiction may lose interest in the advances of their partner. This makes them seem distant or even uninterested when you try to engage with them sexually. They may require more stimulation than they needed before to become aroused.
5. You're More Demanding
People suffering from porn addiction develop unrealistic ideas about sex. This can make them more demanding in the bedroom, easily frustrated, and alienate their partner. When this happens, their partner can feel physically and emotionally uncomfortable.
6. You've Lost Attraction
Porn addiction can give the afflicted unrealistic expectations of beauty for their partner. This can make their partner feel hurt about their appearance and create a greater problem for their self-esteem.
7. You're in Physical Pain
Someone suffering from porn addiction can actually begin to experience physical pain. Be it from the physical movements involved when viewing porn, or the strain that comes with excessive computer use, people addicted to porn frequently complain about wrist, back, and neck pain and headaches.
8. You're Losing Money
Some people who suffer from porn addiction start spending money for what they consider higher-quality content. When this happens, they can quickly begin falling into some kind of financial hardship. This appears as them complaining more about money problems, but unwilling to disclose the exact nature of these problems.
9. You're Distracted
When people are addicted to porn, they can become distracted from different aspects of life. Their mind drifts to porn when they are with friends, family, or at work. It could actually impact their work and relationships. This makes them distant from their partner and their attempts to connect with them.
10. You're Angry
Like any addiction, someone suffering from porn addiction will become easily irritable if they go without porn. They may have less patience in certain acts if they see them as delaying watching porn. This can also make it easier to lash out at their partner. They'll be more irritable, agitated, or even erratic. Their partner could notice major changes in their personality and don't feel that they are the same person they loved before.
CAUSES OF PORN ADDICTION
Lots of different things can be reinforcing, and thus influence our behavior, but porn can be especially reinforcing because the reward taps into a very basic instinctual drive–sex. Therefore, it is very easy to become addicted to porn–it is accessing a fundamental (and very enjoyable) natural drive. It is also much easier to obtain than going out and finding a "mate" to fulfill this drive. The problem occurs when seeking sexual pleasure becomes excessive, impulsive, or comes at the expense of other valued behaviors. Then we might say that one has a porn addiction.
BIOLOGICAL FACTORS
You may have a genetic predisposition to impulsivity, emotion dysregulation, or sensation-seeking behavior.
You may have a predisposition to other characteristics that are associated with sexual addiction, like anxiety or depression.
As you might expect, higher levels of sex hormones like testosterone or estrogen can affect libido.

If you are inclined towards impulsive behavior and have high levels of sex-related hormones, you may be more likely to engage in excessive or compulsive porn watching
2. PSYCHOLOGICAL FACTORS
Early-life environmental factors, including adverse events like abuse or exposure to sexual content, can contribute to some of the underlying traits involved in porn addiction behaviors.
Mental health:

Anxiety.
Depression.
Personality disorders.
Poor impulse control.
Performance anxiety.
Other mental health issues might contribute to porn addiction behaviors.
3. SOCIAL FACTORS
Rejection in relationships and social circles can lead to other, less healthy ways to find sexual gratification.
Social isolation:

Not only does social isolation increase one's likelihood of seeking inappropriate ways of being sexually gratified, it also leads to a host of other problems–like depression and physical maladies–that can contribute to porn addictions or unhealthy sex behaviors.

Peer influence:

If others around you are doing something, you are more likely to do it, too. Having a friend, or a group of friends, for example, who engage in excessive porn viewing can influence your behavior.
WHAT HAPPENS IN THE BRAIN WHILE WATCHING PORN?
One of the clearest indicators of psychological addiction is an emotional response in the brain. Brain activity can be detected via electroencephalography (EEG) which involves placing electrodes on the scalp and measuring the activity. It tells us, from the surface measurements, how active the brain is. We see increased activity whenever people with addiction are presented with images of that addiction—like cigarettes for smokers, or gaming for gamblers. But EEG tests from a pivotal study by UCLA neuroscientists in 2015 showed that people who struggle with porn consumption don't have this characteristic spike in brain activity while watching porn.
In fact, the researchers noted that they showed decreased brain reactions while viewing the sexual images—the exact opposite of what you'd expect to see going on in the brain of someone with an addiction. The findings suggest that self-proclaimed "porn addicts" don't quite have the same relationship with porn as someone with a substance addiction has to their drug of choice.
It should be noted that porn addiction is not the same as sex addiction. Porn addiction, if it exists, is likely part of a larger problem of sex addiction but the jury is still out on whether either problem constitutes addictive behavior.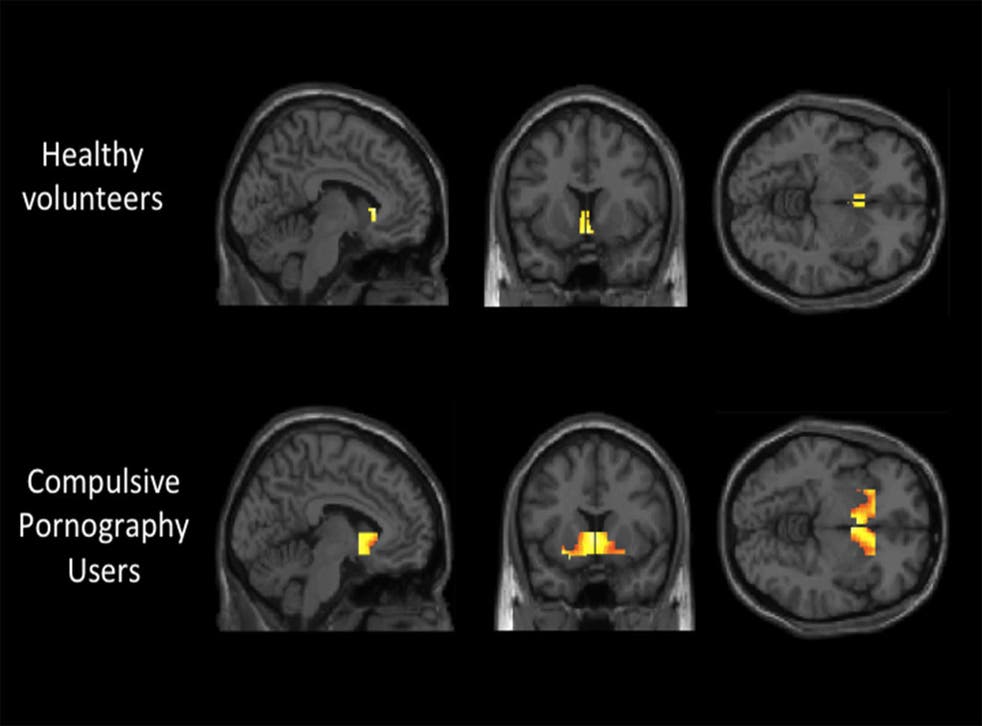 Effects of Addiction to Pornography
Physical
Sexual dysfunction.

Impotence (inability to form or maintain an erection).
Premature ejaculation.
2. Psychological
Preoccupation with sexual thoughts throughout the day.
Guilt, shame, confusion.
Ambivalence about stopping, or cycles of stopping/restarting.
Tendency towards other impulsive behaviors.
Depression, anxiety, or other co-occurring psychological disorders.
3. Social
Not wanting to seek person-to-person (real life) sexual contact, or diminished patience for sexual contact (e.g., wanting to have sex right away, or fantasizing or obsessing about sexual contact with random strangers).
Decline in romantic or sexual interactions with partner, such as:

Inability to become aroused.
Increasing need for more aggression or dominance.
Emotional detachment.
How Is a Porn Problem Treated?
If you're struggling in this area or want to change your relationship with porn, the good news is that it's totally possible. If your goal is to reduce your porn consumption, studies have shown that mindfulness and acceptance-based psychotherapy can usually be more effective than a pharmacological approach. (Although, if you do have a co-existing mental health condition such as depression or OCD, your doctor may recommend medication.)
Keep in mind that addiction-based models for recovery aim to eliminate the behavior completely (and rehab programs for watching porn do exist). It should be noted that much of the problem with porn has to do with social stigma, judgments, and disapproval of partners of people using porn. So it has a social circumstance component that drives conflict and shame.
More realistic for pornography issues, according to psychotherapists, are talk therapy approaches such as Cognitive Behavioral Therapy (CBT) and Acceptance and Commitment Therapy (ACT), which have been shown to be effective in managing and reducing these types of behaviors. ACT strategies can help an individual find ways to be comfortable with their negative feelings around viewing porn, making it easier for them to actually enjoy lower consumption rates.