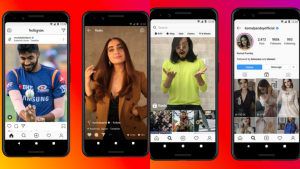 Instagram's new feature Reels were in testing for some time now and now as the TikTok took an exit from India, Facebook-owned Instagram has rolled out their new Reels feature which allows user to shoot 15-second videos. The feature now arrives in India. This is good opportunity for reels to attract short video lovers as its demand has grown in the country.
many short video apps such as Roposo, Mitron, Chingari, Sharechat, and others are becoming more popular among users and seeing millions of downloads every day.Facebook is also all set to use this opportunity to attract 200 million TikTok users to Reels.
Reels is just a new feature on Instagram and users in India are loving this new feature which is just like TikTok.
How to use Instagram Reels?
Step 1: Update your Instagram on Google Play
Step 2: Open the Instagram Camera
Step 3: Reels option is available next to boomerang, Superzoom, hands-free, and layout.
Step 4: Click on Reels and select audio from the Instagram Music library.
Step 5: Reels also come with an option to record original voice besides lip-syncing.
Step 6: Reels also let users add AR effects and provide options like Timer, Speed to edit videos as required before sharing. Reels also let users re-record a video and even delete it if needed.
Step 7: After creating their Reel, users can choose to share it with either their followers or everyone on Instagram. Reels can be shared to Feed as well as Explore so everyone on Instagram can view it.
Reels also feature several AR effects allowing users to add a custom touch to their videos. To put AR effects in their videos, users can open Reels camera and go to effects and then AR effects.
Users will also be able to record multiple 15 seconds Reels – it can also be recorded at once and the different effects can be added to each clip post the shoot. The Reels can also be reviewed, deleted, and re-recorded.
Categories: Editorial, Education, Entertainment, Guest-Posts, Health, India, Jobs, News, News Analysis, Personality and Self Help, social issues, World