INTRODUCTION
Sabarimala temple is situated at Sabarimala in Pathanamthitta district, Kerala. It is a Hindu temple dedicated to Lord Ayyappa and their followers Ayyappan. This temple is managed and administered by statutory body Travancore Devaswom Board created under the Travancore-Cochin Hindu Religious Insitution Act, 1950. In the past women devotees between age of 10 to 50 years were not permitted to exercise their right to worship[1] in this temple.
This restriction on women is justified on the ground that Lord Ayyappa is 'Naishtik Brahmachari' and for preservation of character of deity Ayyappa it is necessary. So, as per notification by Travancore Devaswom Board, women belonging to age of 10 to 50 years are not permitted to enter into the temple. On the other hand, some gender right activist thinks that this exclusionary practice which is based upon the biological factor exclusive to the female gender amount to discrimination and violates various fundamental right guaranteed under Indian Constitution.
Sabarimala Temple row is all about the conflict between tradition and women rights. As per traditions and customs, women between 10 and 50 years of age were not allowed to enter into Sabarimala Temple but this restriction is not in accordance with the constitutional morality. Constitutional morality and Individual or social morality is different things. In a democratic country like India, if there is any conflict between constitutional morality and societal morality, farmer should prevail over later.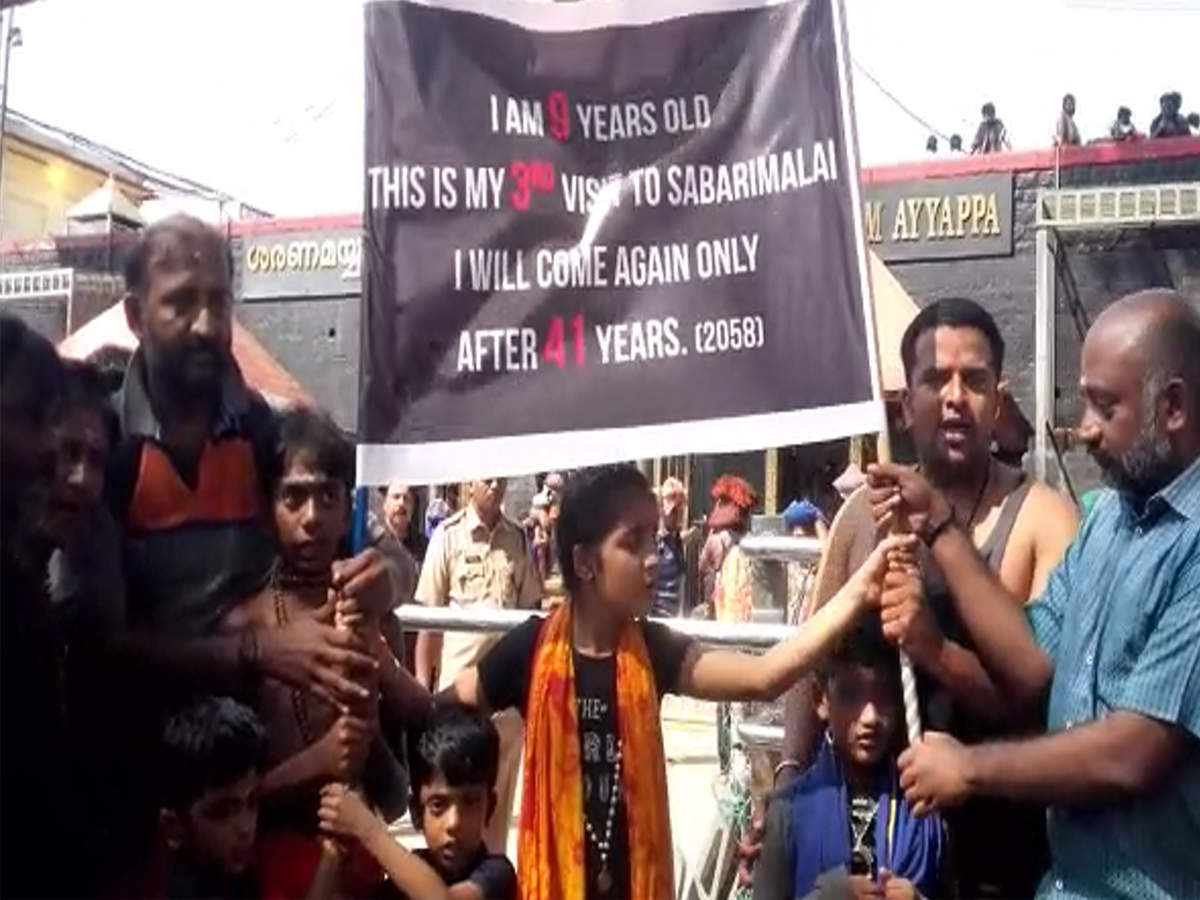 FACTS OF THE CASE

In 1990, a petition was filed in Kerala High Court seeking a ban on entry of women inside the Sabarimala temple. The Kerala High Court had upheld the restriction of women of certain age entry inside the holy shrine of Lord Ayyappa. In 2006, A petition under Art 32 of Indian Constitution was filed in the Supreme Court by the registered association of Indian Young Lawyers seeking entry of women between 10 to 50 years.
In 2008 after two years matter was referred to three-judge bench. In January 2016 Supreme Court of India raise questions against such restriction and said that this is not in accordance with constitutional morality. In April 2016, Kerala government replied that it is under obligation to protect the right to practice the religion[2] of Sabarimala devotees. In 2017 Supreme Court of India referred the case to Constitutional bench.
In writ petition it was argued that Rule 3(b) of Kerala Hindu places of public worship (authorisation of entry) rules, 1965 (hereinafter referred as 1965 rules) framed in exercise of the powers conferred by section 4 of the Kerala Hindu places of public worship (authorisation of entry) act, 1965 (hereinafter referred as 1965 Act) is unconstitutional because it violates Articles 14,15,25 and 51A(e) of Indian Constitution.
CONCLUSION

There is a sharp distinction between the societal morality/individual morality and constitutional morality. I case where, there is violation of fundamental right, we should have to focus on the constitutional morality. Whether any practise is essential part of the religion or not? It can be found out only through the documentary evidences. So, as Indu Malhotra j. right observed that this case involves the mix question of fact and law and question of fact can not be decided in writ petition hearing.
Question of fact need to be solved by competent court of civil jurisdiction. There is also lack of documentary evidences with regard to the question whether devotees of Lord Ayyappa constitute a religious denomination under art 26 or not? So there are various lacuna in this judgment, so review petition was filed later and 5 judge bench (3:2) referred this matter to 7 judge bench.