Importance of training employees for your organization
To fully understand how to deliver great training, it's vital to know why training is significant for employees. We've created an infographic that highlights the importance of training employees in an organization: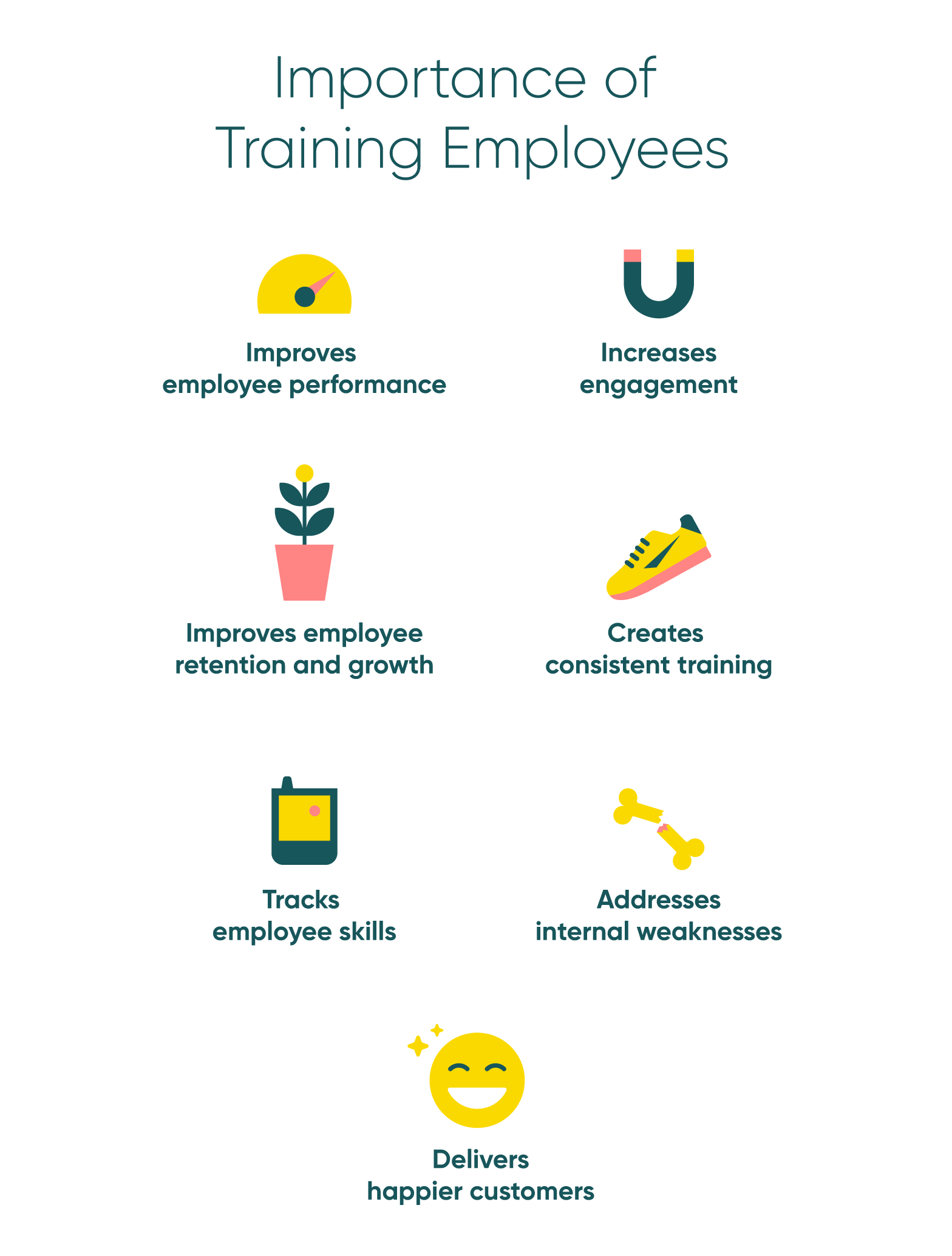 1. Improves employee performance
The prime motivator for employee training is to improve productivity and performance. And when executed well, it does just that. It provides your employees with the expertise they need to fulfil their role and make a positive impact on your business. The skills they learn empower them to deliver a better quality of work with a fast turnaround rate.
It also gives your hires a clear understanding of their roles and responsibilities within your organization. They know their targets and they're equipped with the tools to effectively meet them.
2. Increases engagement
Engaged employees have an increased level of productivity – it's as simple as that! Through training, you're continuously engaging your employees and enabling them to engage back. There is two-way communication, opinions and internal workings are shared, meaning your employees are always up to date with what's going on. This makes them more emotionally invested. They care about their role and are more willing to commit their time and energy to the company.
3. Improves employee retention and growth
It's common knowledge that the hiring and onboarding process can be a costly and time-consuming task. And a powerful by-product of increased performance and engagement through training is improved employee retention. 
Training boosts a feeling of value in employees. It shows that you're committed to providing them with the resources needed to ensure they're doing a good job. In turn, they're more likely to enjoy their work and remain in your organization for longer. It also nurtures them further in their career within your organization. One of the biggest benefits is that you'll have more opportunities to hire from within, reducing recruiting and onboarding costs for your business.
4. Consistency in training
Creating consistency within an organization is difficult. But training helps reduce a disparity between your teams. Each employee has a baseline knowledge of their individual and their team's goals, putting everyone on the same page. Additionally, employees all receiving the same training means they share responsibility and are aware of their role on the team.
5. Tracks employee skills
With eLearning, particularly with a learning management system (LMS), you can track the training your employees have taken. This has two big advantages.
Through insightful reports, you know if your employees are up to date with their training. Reports are a powerful tool if you're delivering onboarding training or have to prove training has taken place, as is usually the case for compliance training. Tracking your training also helps you to provide better training for your employees. It enables you to identify what they are and aren't engaging with. So, you can improve your course content based on these insights, ensuring that your employees get better training overall.
6. Address internal weaknesses
A lack of awareness of internal weakness is a hazardous thing within an organization. Training overcomes this as you can educate your employees on important subjects that help overcome and avoid any issues. Additionally, it creates a knowledge-sharing environment – your employees learn from managements' and each others' past mistakes and wins. This ensures that recurring mistakes are reduced and your employees know the strategies for success.
7. Happier customers
Perhaps the most impactful aspect of employee training is its beneficial effect on your business's growth. Simply put, better-trained employees make more productive team members, that serve your customers better. The result of this is that your customer retention increases – happier customers stick around for longer and buy more. This can powerfully fuel your business's growth.
Discover how to start training your employees
With such great results, it's essential you start your employee training strategy. Find out how to get started in our guide to employee training from Track2Training.