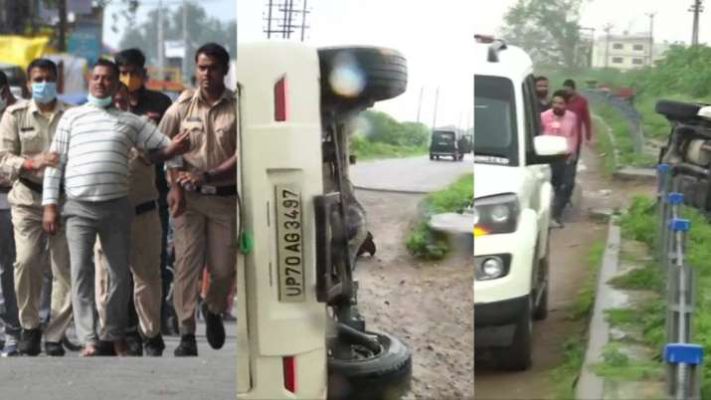 Vikas Dubey, dreaded gangster, wanted in killing of 8 policemen, has been killed in an encounter.
Vikas Dubey, dreaded gangster and prime accused in the killing of 8 police personnel in the Kanpur encounter case, has been killed in an encounter after UP STF's car carrying the criminal overturned when it was returning from Madhya Pradesh's Ujjain to Kanpur today amid heavy rainfall.
The incident was reported after Uttar Pradesh police entered the state limits with gangster Vikas Dubey. Doctors in the hospital where Vikas Dubey was rushed after he got injured have pronounced him dead. Meanwhile, information on the injured police personnel and other details are still awaited.
He was brought to Kanpur's Hallet hospital with bullet wounds. Doctors pronounced him dead.
Police say Vikas Dubey tried to escape after the UP STF car carrying him overturned.
Vikas Dubey attempted to flee by snatching pistol of the injured policemen after car overturned.
Police said that they tried to stop him and surrender, But he fired at the policemen. Vikas was injured in retaliatory firing by police. He was later taken to the hospital, SP Kanpur West said.