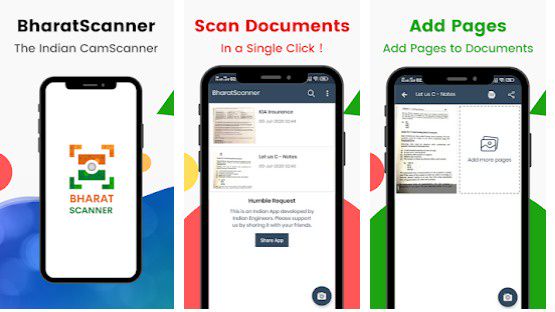 The BharatScanner mobile app, an Indian alternative to cam scanners, has been launched. In this app, users have got the facility from scanning documents to creating PDFs. The special thing is that this app is completely free and users will not have to pay a separate charge to use any feature.
Rating of 4.4 points found on Google Play Store
Bharat Scanner app is available on Google Play Store for users. This app has downloaded more than 10 thousand users so far and it has got a rating of 4.4 points on the Google Play-Store. At the same time, this app size is 36 MB. .
Features of BharatScanner .
Some current features of BharatScanner are as follows: .
Users can scan documents easily.
Filters have been supported in this app.
Users can keep their documents as PDF.
Users have got the facility to share documents in this app on mail and Whatsapp.
Indian government imposes ban on Chinese mobile app .
Under Section 69A of the Information Technology Act, the Government of India decided to block 59 apps as these apps were a threat to India's sovereignty and integrity, defense of India, security of the state and public order. The government had received many complaints about these apps from various sources, including about the misuse of many mobile apps. These apps were stealing data from both iPhone and Android users.
Ban on these Chinese apps
Tiktok, CamScanner, Shareit, Kwai, UC Browser, Baidu Map, Shein, Clash of Kings, DU Battery Saver, Helo, Likee, YouCam makeup, Mi Community, CM Browers, Virus Cleaner, APUS Browser, ROMWE, Club Factory, Newsdog these 59 apps are banned, including BeutryPlus, WeChat, UC News, QQ Mail.
Categories: Business, Editorial, Education, Entertainment, Guest-Posts, India, Jobs, News, News Analysis, Personality and Self Help, Science, social issues, World