Saturn is the sixth planet from the Sun and the second-largest in the Solar System, after Jupiter. It is a gas giant with an average radius of about nine and a half times that of Earth. It only has one-eighth the average density of Earth; however, with its larger volume, Saturn is over 95 times more massive. Saturn is named after the Roman god of wealth and agriculture.
Some facts about Saturn
Diameter- 120,536 km
Orbital period- 29.4yr
Length of a Day- 10hrs 39min
Axis tilt- 26.7degrees
Distance from the Sun- 9.58AU
Moons- 82
Special features
The planet's most famous feature is its prominent ring system, which is composed mostly of ice particles, with a smaller amount of rocky debris and dust. At least 82 moons are known to orbit Saturn, of which 53 are officially named; this does not include the hundreds of moonlets in its rings. Titan, Saturn's largest moon and the second largest in the Solar System, is larger than the planet Mercury, although less massive, and is the only moon in the Solar System to have a substantial atmosphere
The outer atmosphere is generally bland and lacking in contrast, although long-lived features can appear. Wind speeds on Saturn can reach 1,800 km/h (1,100 mph; 500 m/s), higher than on Jupiter but not as high as on Neptune.
Natural satellites and Rings
Saturn has 82 known moons, 53 of which have formal names. In addition, there is evidence of dozens to hundreds of moonlets with diameters of 40–500 meters in Saturn's rings, which are not considered to be true moons. Titan, the largest moon, comprises more than 90% of the mass in orbit around Saturn, including the rings. Saturn's second-largest moon, Rhea, may have a tenuous ring system of its own,along with a tenuous atmosphere.
Saturn is probably best known for the system of planetary rings that makes it visually unique.The rings extend from 6,630 to 120,700 kilometers (4,120 to 75,000 mi) outward from Saturn's equator and average approximately 20 meters (66 ft) in thickness.The particles that make up the rings range in size from specks of dust up to 10 m. While the other gas giants also have ring systems, Saturn's is the largest and most visible.
There are two main hypotheses regarding the origin of the rings. One hypothesis is that the rings are remnants of a destroyed moon of Saturn. The second hypothesis is that the rings are left over from the original nebular material from which Saturn was formed.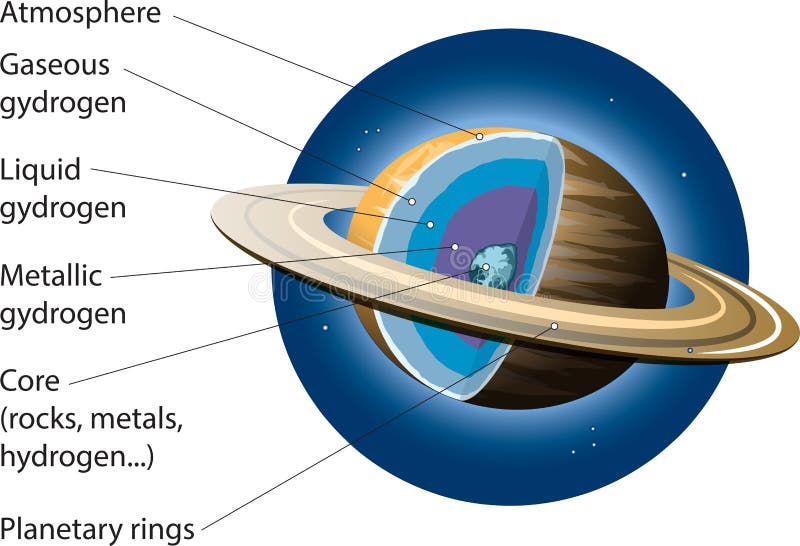 Structure
Despite consisting mostly of hydrogen and helium, most of Saturn's mass is not in the gas phase, because hydrogen becomes a non-ideal liquid when the density is above 0.01 g/cm3, which is reached at a radius containing 99.9% of Saturn's mass. The temperature, pressure, and density inside Saturn all rise steadily toward the core, which causes hydrogen to be a metal in the deeper layers.
Standard planetary models suggest that the interior of Saturn is similar to that of Jupiter, having a small rocky core surrounded by hydrogen and helium, with trace amounts of various volatiles. This core is similar in composition to Earth, but is more dense. The examination of Saturn's gravitational moment, in combination with physical models of the interior, has allowed constraints to be placed on the mass of Saturn's core. In 2004, scientists estimated that the core must be 9–22 times the mass of Earth, which corresponds to a diameter of about 25,000 km. This is surrounded by a thicker liquid metallic hydrogen layer, followed by a liquid layer of helium-saturated molecular hydrogen that gradually transitions to a gas with increasing altitude. The outermost layer spans 1,000 km and consists of gas.
Exploration
Pioneer 11 made the first flyby of Saturn in September 1979, when it passed within 20,000 km of the planet's cloud tops. Images were taken of the planet and a few of its moons, although their resolution was too low to discern surface detail. 
In November 1980, the Voyager 1 probe visited the Saturn system. It sent back the first high-resolution images of the planet, its rings and satellites. Surface features of various moons were seen for the first time. Voyager 1 performed a close flyby of Titan, increasing knowledge of the atmosphere of the moon.
The Cassini–Huygens space probe entered orbit around Saturn on 1 July 2004. In June 2004, it conducted a close flyby of Phoebe, sending back high-resolution images and data. Cassini's flyby of Saturn's largest moon, Titan, captured radar images of large lakes and their coastlines with numerous islands and mountains. The orbiter completed two Titan flybys before releasing the Huygens probe on 25 December 2004. Huygens descended onto the surface of Titan on 14 January 2005.
Saturn – Wikipedia
https://space-facts.com/saturn/#:~:text=Saturn%20Facts%20%20%20Equatorial%20Diameter%3A%20%20,30%2B%20%287%20Groups%29%20%205%20more%20rows%20