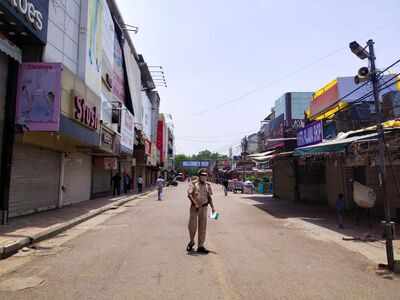 Famous market in Delhi, Lajpat Nagar shut for Covid rules violation.
Lajpat Nagar's central market has been shut until further orders as social distancing and other Covid protocols were not being followed at the market.
The market has over 2000 shops and sees a massive footfall everyday.
Lajpat Nagar's traders told NDTV that they are ready to follow all rules and will try their best to implement social distancing.
Pawan Singh, a shopkeeper tells NDTV," We keep telling customers to stand apart and wear masks. We try our best. Majority of people here wear masks. But I can't say that it's 100%."
"Our livelihood is at stake. The pandemic has already caused huge financial losses for us" , the traders told NDTV saying they will hold meetings with authorities over reopening the market.
On Saturday, Punjabi Basti and Janata market in Nangloi area of the national capital were closed till Tuesday for violation of Covid-appropriate behavior.
If any shopkeeper is found violating the order or any act which may spread the deadly virus, necessary action would be taken against them, it warned.
The city was one of the worst affected during the deadly second wave of the pandemic this year which saw a huge number of fatalities. The unprecedented surge led to a collapse of the medical infrastructure with hospitals crumbling under pressure due to lack of beds, oxygen and medicines.
The situation has now improved with the capital reporting only 94 cases in the last 24 hours.