Subhas Chandra Bose, affectionately called as Netaji, was one of the most prominent leaders of Indian freedom struggle. Subhash Chandra Bose (23rd January 1897 – 18th August 1945) was a well-known freedom fighter of India whose non-compromising patriotic attitude made a national hero. His exceptional leadership qualities in gathering support for independence has earned him the honorific "Netaji" meaning "Respected Leader" in Hind He founded Indian National Army (Azad Hind Fauj) to overthrow British Empire from India and came to acquire legendary status among Indian masses.
Early Life and Childhood:
Subhash Chandra Bose was born in a Kayastha family on 23rd January 1897 at 12:10 P.M. His mother's name was Prabhavati Dutt Bose and his father was Jankinath Bose, who was an advocate in Cuttack, Orissa, then under the Bengal Province.Prabhavati Devi was a pious and religious lady. Subhas Chandra Bose was the ninth child among fourteen siblings. Subhas Chandra Bose was a brilliant student right from the childhood. He topped the matriculation examination of Calcutta province and graduated with a First Class in Philosophy from the Scottish Churches College in Calcutta. He was strongly influenced by Swami Vivekananda's teachings and was known for his patriotic zeal as a student. In January 1902 at the age of five, he was admitted into Stewart High School; Cuttack.Ravenshaw Collegiate School in Cuttack and Presidency College in Kolkata were some of the premier institutions where he joined in furtherance of his education.
Clearing the Indian Civil Services (ICS) :
To fulfill his parents wishes he went to England in 1919 to compete for Indian Civil Services. In England he appeared for the Indian Civil Service competitive examination in 1920, and came out fourth in order of merit. However, Subhas Chandra Bose was deeply disturbed by the Jallianwalla Bagh massacre, and left his Civil Services apprenticeship midway to return to India in 1921. Being born in a well to do family, Netaji studied in some of the prestigious schools and institutions of British India.
Subhash got selected in the Indian Civil services examination, yet resigned from his job on 23rd April 1921 and headed back towards India. The reason for his resignation from the ICS as he stated in a letter to his brother was that he was opposed to work under the British government. In the letter he further stated – "Only on the soil of sacrifice and suffering can we raise our national edifice".
Political Life :
After returning to India Netaji Subhash Chandra Bose came under the influence of Mahatma Gandhi and joined the Indian National Congress. On Gandhiji's instructions, he started working under Deshbandhu Chittaranjan Das, whom he later acknowledged his political guru. Soon he showed his leadership mettle and gained his way up in the Congress' hierarchy. In 1928 the Motilal Nehru Committee appointed by the Congress declared in favour of Domination Status, but Subhas Chandra Bose along with Jawaharlal Nehru opposed it, and both asserted that they would be satisfied with nothing short of complete independence for India. Subhas also announced the formation of the Independence League. Subhas Chandra Bose was jailed during Civil Disobedience movement in 1930. He was released in 1931 after Gandhi-Irwin pact was signed. He protested against the Gandhi-Irwin pact and opposed the suspension of Civil Disobedience movement specially when Bhagat Singh and his associates were hanged.
Freedom Struggle –Falling-out with Gandhi :
After the General Elections of 1937, Congress came to power in seven states and Subash Chandra Bose was released. Shortly afterwards he was elected President of the Haripura Congress Session in 1938. During his term as Congress President, he talked of planning in concrete terms, and set up a National planning Committee in October that year. At the end of his first term, the presidential election to the Tripuri Congress session took place early 1939. Subhas Chandra Bose was re-elected, defeating Dr. Pattabhi Sitaramayya who had been backed by Mahatma Gandhi and the Congress Working Committee. Clouds of World War II were on the horizon and he brought a resolution to give the British six months to hand India over to the Indians, failing which there would be a revolt. There was much opposition to his rigid stand, and he resigned from the post of president and formed a progressive group known as the Forward Block. Netaji, respected Mahatma Gandhi but was doubtful of the latter's methods and agendas for the independence of India. Being a soldier at heart, he tried to organize Indian politicians for forcibly deporting British from the Indian soil. Unfortunately, he failed, as senior Indian leaders at that time were largely in support of peaceful protests and marches.
Escape to Germany :
Subhas Chandra Bose now started a mass movement against utilizing Indian resources and men for the great war. There was a tremendous response to his call and he was put under house arrest in Calcutta. In January 1941, Subhas Chandra Bose disappeared from his home in Calcutta and reached Germany via Afghanistan. Working on the maxim that "an enemy's enemy is a friend", he sought cooperation of Germany and Japan against British Empire. In January 1942, he began his regular broadcasts from Radio Berlin, which aroused tremendous enthusiasm in India. In July 1943, he arrived in Singapore from Germany.
Azad Hind Fauj :
In Singapore he took over the reins of the Indian Independence Movement in East Asia from Rash Behari Bose and organised the Azad Hind Fauj (Indian National Army) comprising mainly of Indian prisoners of war. He was hailed as Netaji by the Army as well as by the Indian civilian population in East Asia. Azad Hind Fauj proceeded towards India to liberate it from British rule. Enroute it lliberated Andeman and Nicobar Islands. The I.N.A. Head quarters was shifted to Rangoon in January 1944. Azad Hind Fauj crossed the Burma Border, and stood on Indian soil on March 18 ,1944.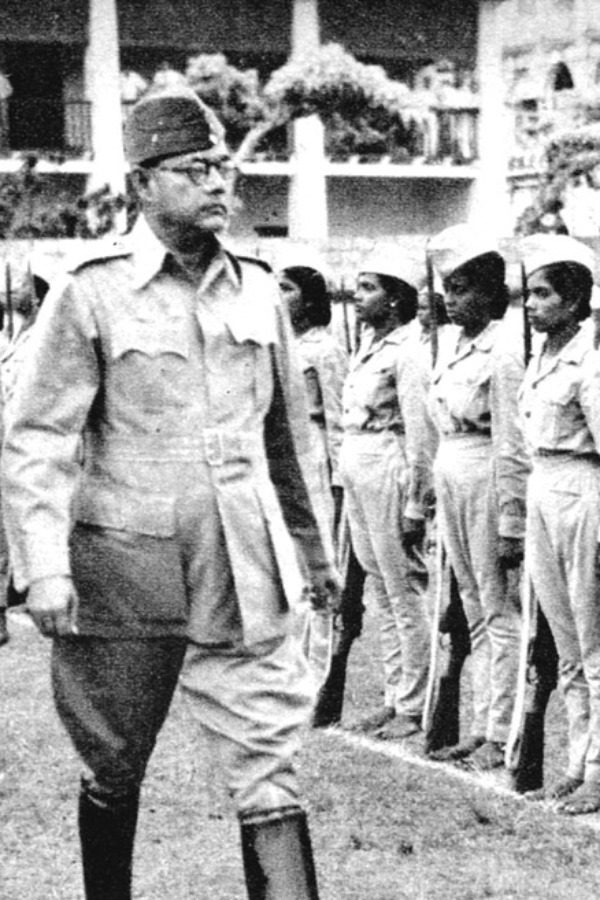 Activity in exile :
A little more than a year after the japanese invasion of Southeast Asia, Bose left Germany, traveling by German and Japanese Submarines and by Plane, and arrived in May 1943 in Tokyo. On July 4 he assumed leadership of the Indian Independence Movement in East Asia and proceeded, with Japanese aid and influence, to form a trained army of about 40,000 troops in Japanese-occupied Southeast Asia. On October 21, 1943, Bose proclaimed the establishment of a provisional independent Indian government, and his so-called Indian National Army (Azad Hind Fauj), alongside Japanese troops, advanced to Rangoon and thence overland into India, reaching Indian soil on March 18, 1944, and moving into Kohima and the plains of Imphal. In a stubborn battle, the mixed Indian and Japanese forces, lacking Japanese air support, were defeated and forced to retreat; the Indian National Army nevertheless for some time succeeded in maintaining its identity as a liberation army, based in Burma and then Indochina.
Netaji's Mysterious Demise:
The Government of India has decided to celebrate Netaji Subhas Chandra Bose's birth anniversary every year on January 23 as Parakram Diwas. This was decided by the Central government to inspire people of the country, especially the youth, to follow on the path of Bose's ideals. The legendary leader's demise, however, still remains a mystery and theories come up almost until recently that Netaji had faked his death to work secretly in some other country. Today, we look at some of these death theories about the legendary legendary leader that have resurfaced over the years and been a topic of curiosity around the world.
The universally known story of his death was that he died in a plane crash on August 18, 1945 in Taihoku (Taiwan). However, his followers refused to believe this story and instead said that he survived the plane crash and lived in secret with a different identity until he grew old. One of the other bizarre theories about his death claimed that the plane crash was a decoy by the Japanese to help Bose escape to the former Soviet Union. This theory had been proposed by Retd Major Gen GD Bakshi in his book, Bose: The Indian Samurai – Netaji and the INA Military Assessment. In his book, the retired general stated that Netaji set up a Azad Hind Government embassy in Russia, he also successfully made three radio broadcasts from Siberia which gave away his location to the British. It is after this that the British interrogated Netaji and thus tortured him to death, alleges the retired general.
Netaji distinguished himself as a soldier in the history of Indian freedom struggle. His ability to gather the support of the world leaders for the cause of Indian freedom was commendable and hinted towards his diplomatic excellence. In the history of freedom struggle of India, there is no one who could replace Netaji Subhash Chandra Bose in popularity and respect.
THANK YOU !