18th July marks the birth of an iconic figure who vanquished South Africa's apartheid system. The great personality who fought for human rights and was an international peacemaker. This person who played a very vital role in shaping the society and conserving the human rights was Nelson Rolihlahla Mandela.
"It is easy to break down and destroy.
The heroes are those who make peace and build."
– Nelson Mandela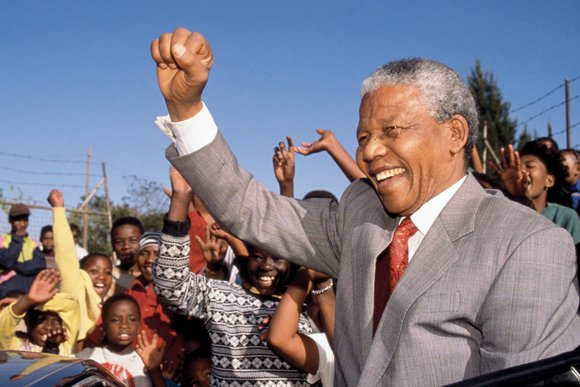 ABOUT NELSON MANDELA
Nelson Rolihlahla Mandela (18 July 1918 – 5 December 2013) was a South African anti-apartheid revolutionary, who served as President of South Africa from 1994 to 1999. The main focus of his government was on knocking down the apartheid regime by fostering racial reconciliation and tackling institutionalized racism. Nelson Mandela is an iconic figure who was an human rights lawyer, a prisoner of conscience and an international peacemaker. He is that great personality who vanquished South Africa's apartheid system and was the first democratically elected president of free South Africa. Nelson Mandela was born Nelson Rolihlahla Mandela in Transkei, South Africa on 18 July, 1918. His strategy was to bring change through Legal Revolution but not through actual violence. He began his journey towards by following the path of non-violence, later embracing violence, and then adopting a non-violent approach for negotiation and reconciliation.
ABOUT NELSON MANDELA INTERNATIONAL DAY
Nelson Mandela International Day (or Mandela Day) is celebrated in honor of Nelson Mandela, the former South African President, on his birthday, that is on 18 July. This day was declared officially by the United Nations in November 2009 and the first Mandela Day was thus held on 18 July 2010. There are many other groups who celebrated this day before 2010 also, that is from 18 July 2009.
The UN General Assembly (UNGA) declared 18th July as "Nelson Mandela International Day" for paying tribute and for recognizing his contributions for achieving and promoting peace and freedom. Mandela Day reminds us that "Each individual has the potential and power to bring a positive change, transform and ability to make an impact."
MESSAGE OF MANDELA DAY CAMPAIGN
Nelson Mandela fought for peace and harmony. He fought for bringing social justice for over 67 years. This day urges the people of Mother Earth to fight poverty and promote peace, reconciliation and cultural diversity.
While establishing this international day, UNGA recognized the values and dedication of Nelson Mandela for serving the humanity. He constantly fought for democracy and for promoting cultural peace throughout the world. Some other values for which he fought are:
Conflict Resolution
Race Relations
Promotion and Protection of Human Rights
Reconciliation
Gender Equality
Rights of Children and other vulnerable groups
Fight against Poverty
Promotion of Social Justice
The contribution of Nelson Mandela to the society can never be measured and his works remind us that "Everyone has the ability and the responsibility to change the world for the better!" Mandela Day is one such occasion which urges all to take action and inspire change.
WHY DO WE CELEBRATE NELSON MANDELA DAY ?
Nelson Mandela International Day is celebrated every year to remember the legacy of a man who shaped the present with his fight for 67 years and provided a better world and society for the future generation. Nelson Mandela changed the 20th century and helped shape the 21st century and future of the world. This day exhorts us to renew the values and principles of Nelson Mandela and to take actions for building a better society.