360 Wander Writer
Welcome to Historic Love World
We all will be well aware of the Rajput's and their ruling period over India. Today let us see about one of the love story that prevailed during the period of Rajput's , which is considered as one of the epic love stories of India. This Love story is between Prithviraj Chauhan and Princess Sanyogita who is also known as Samyukta. This love story is a in which we will come across The Love Story of Prithviraj Chauhan And Princess Sanyogita is the mesmerizing saga of romance, courage, war, vengeance, tragedy.
Prithviraj Chauhan, was the King of the Chauhan dynasty who ruled Rajasthan, Delhi and some parts of Uttar Pradesh. He was also the last king of Rajput Kingdom to rule Delhi , after which Muslim rule started its reign in India. Samyukta was the daughter of Jaichand who was the king of Kannauj. She was known for her bravery and majestic beauty. As in the air the story and bravery of Prithviraj Chauhan reached the ears of Samyukta. She fell in love with him when a painter from his kingdom showed his painting to her. And simultaneously showed the paintings of Samyukta to Prithviraj and he also fell in love with her.
Prithviraj was very famous for his bravery , fearlessness and chivalry , which made Jaichand jealous . They both belonged to the rivalry clans of Rajput. As soon as Jaichand came to know about the affair he arranged Swayamvara and invited all eligible prince and king except for Prithviraj Chauhan.
Prithviraj was too in love with Sanyogita's beauty and as soon as he came to know about Swayamvara , he decided to join it. In the Swayamvara , the princess rejected all the prince and placed the garland in her hand to the statue of Prithviraj, which was made as a representation of watch guard as an insult. As soon as this, Prithviraj came out of his hiding and along with Samyukta whisked away to Delhi.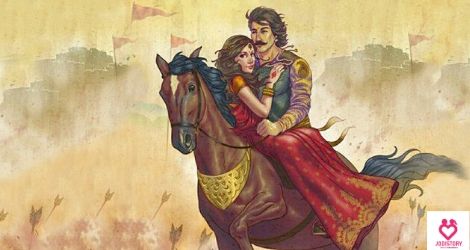 Jaichand was in anger and in the mood to take revenge. So, he alliance with Muhammad Ghori, who was against Prithviraj and was previously defeated 16 times, and extended his support to Ghori's to attack Delhi. When Ghori attacked Prithviraj, Prithviraj lost the war and Ghori acquired him. Legend has it that Prithviraj had begun to ignore state affairs after his wedding to Sanyogita. It is said that Samyukta committed suicide .