"A journey of a thousand miles begins with a single step. "
Indore has been awarded as the "Cleanest City" of India for fourth time in a row and the most important reason behind this success is the combined efforts of the public, public representatives, government officials and other stakeholders engaged in this process. The journey made by the city is inspiring and as of now there are many other cities of the country and globe who are following the strategies for becoming cleanest city.
INDIAN SCENARIO: TRASH EMERGENCY
According to the Annual Report of the Ministry of Housing and Urban Affairs, in year 2016-17, India generated approximately 1,50,000 tones of solid waste per day. According to World Bank by 2050, it is estimated that India will generate nearly 3.5 times (over 5,43,200 tones) of solid waste per day. It has also been estimated that local bodies collect nearly 90% of this waste, out of which nearly 80% is dumped in dumping sites or landfill site without getting treated. Under Article 21, it is provided that Clean Environment is (the) Fundamental Right of every citizen and it is the responsibility of the urban local bodies and the State to ensure that clean and hygienic environment is provided to the citizens which preserves their health. In case of Indian cities, it is very important to learn from the best practices and techniques applied in different urban areas for efficiently dealing with the solid wastes.
THE JOURNEY TO CLEANEST CITY
HOW IT STARTED
The journey of Indore for becoming the cleanest city started from 2016 and it faced many challenges.
Some of technical challenges were:
Inefficient infrastructures, systems and processes for Municipal Waste Management.
Absence of infrastructures for material recovery, transfer stations and processing unites and non – operational composting facilities.
Inefficient door to door waste collection system with no scope of source segregation practice.
Unorganized trenching grounds with nearly 13 lakh tons of waste which caused methane induced fire, bad odor and increased the chances of diseases.
Unorganized and inefficient waste collection, transportation and dumping.
In addition to all these technical issues, there were various non – technical challenges like:
Cooperation and support of citizens,
Unorganized municipal workers
Lack of mechanism to monitor and reviews all the processes being involved
Inefficient citizen grievance redressal system.
Lack of political awareness to achieve the cleanliness goals
Lack of awareness about solid waste management process among citizens, local media, administrations and Resident Welfare Associations (RWA).
THE PROCESS
Indore had to implement many strategies in each and every step associated with solid waste management. Along with these strategies the Indore Municipal Corporation (IMC) had partnered with private bodies, NGOs etc. for boosting the entire [process and empowered the citizens regarding their roles and responsibilities as citizens of the city for making Indore a clean city.
Waste Collection, Segregation and Transportation :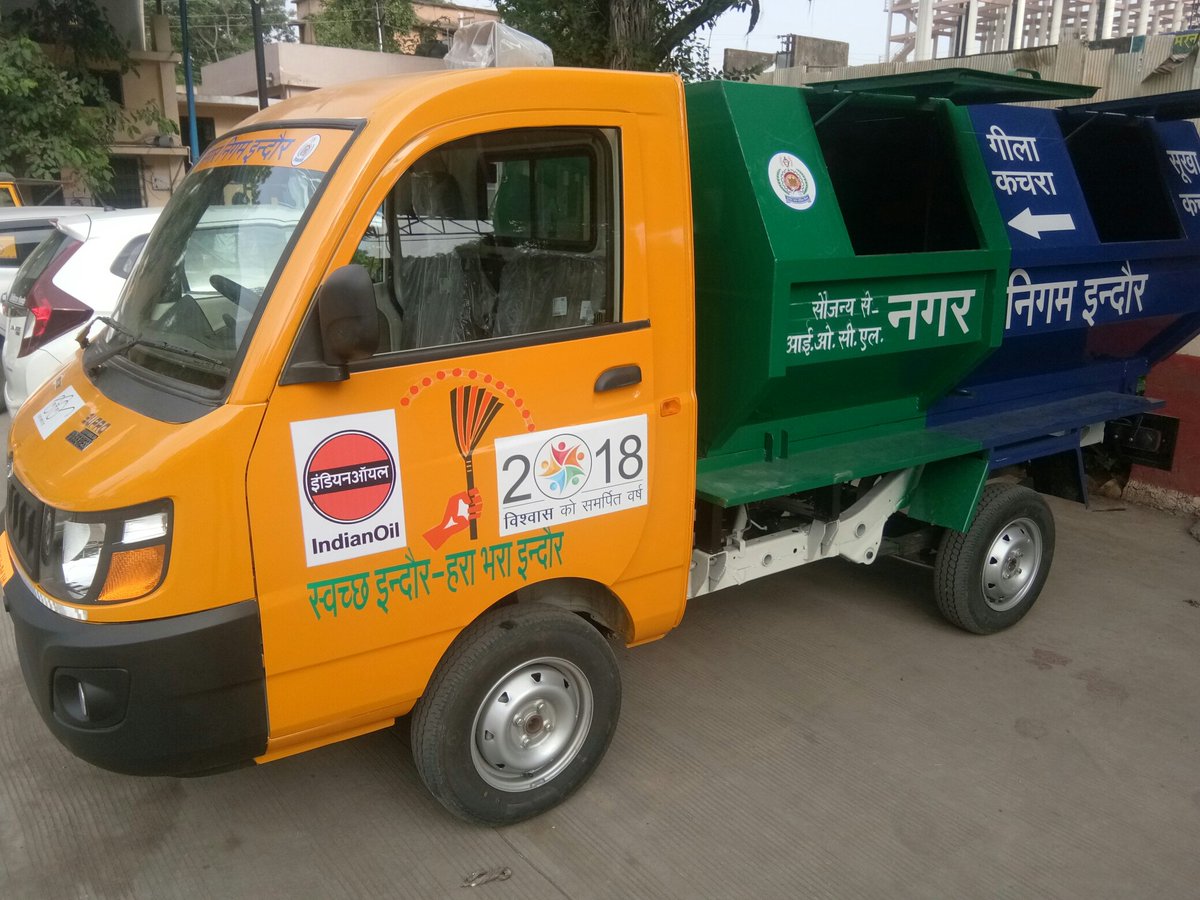 IMC started the process of waste collection from households on daily basis from 2016 and at the same time it also started asking and motivating the citizens to segregate their waste. Some of the strategies undertaken for increasing the efficiency of waste collection were :
Collecting the wastes from household on regular basis and studying the lifestyle of different localities to finding the most suitable for waste collection.
Explaining the people about the need of waste segregation and on repeated disposal of unsegregated wastes, households had to pay the fine as decided by the Supervisors of IMC.
Tracking the routes of the garbage vans and vehicles that collect the wastes from door to door and monitoring it.
Some of the steps undertaken for creating awareness among citizens were :
Visiting of different localities and colonies by Municipal officials to persuade and create awareness among citizens regarding waste segregation.
Providing common platforms were religious leaders created awareness among people, on the basis of importance of cleanliness as mentioned in the religious texts, schools etc. and organizing oath taking ceremonies for children pledging a clean city and conduction of mass road sweeping exercise at different areas of the city.
Involving 850 Self Help Groups, comprising almost 8500 women for spreading awareness for waste segregation and conducting mass campaigns.
Campaigns for zero waste localities and markets.
Creating awareness regarding home composting, as a result of which nearly 50,000 households started doing home composting.
Involvement of Private Bodies and NGOs for Boosting the process
The IMC partnered with non-governmental organizations for creating awareness campaigns to change the attitude and behavior of citizens, to facilitate the functioning of solid waste management systems, use of proper technologies for increasing efficiency and improved capacity for ensuring proper implementation of all strategies and actions decided for being clean.
Waste Management System
The city adopted the strategy of processing the waste near the source. For example: All food outlets separate food waste and transport it to the small garden inside a traffic triangle at one end of the street. This strategy is more cheaper, hygienic and sustainable way for processing the wastes. The responsibility of waste composting is given to an NGO named Swaha and this organization uses a machine which simple and easy to handle. Most the waste generated from Indian cities contain higher proportion of organic wastes and are generally wet, which makes the waste more difficult to handle. These machines work efficiently even if the material is not organic with minimum spillage, minimum human contact with waste and has mechanism which can easily lift heavy trash cans.
Waste to Fuel
For processing of organic wastes, a Biomethanation facility is provided which converts the organic waste into methane. The city produces nearly 20 tones of waste everyday and this waste is converted into 750 – 800 kg of bio compressed natural gas (bioCNG). This task is assigned Mahindra Waste to Energy Solutions Ltd. The gas produced is used to run city buses, and sold as cooking fuel to hotels and the Indian Institute of Management, at a subsidized rate. Waste from the flower market is kept separately (1-2 tons a day), and mixed with slurry to produce compost.
Street Sweeping
For the purpose of street sweeping machines are used. Every night 800 km of main roads are swept using machines and water mist are used for cleaning footpaths and road dividers. For the cleanliness of roads nearly 400 liters of water is used every night and most of these are recycled water which are derived from the three sewage treatment plants. In case of internal roads which are 2200 km, the wastes are swept and are collected in gunny bags, collected by vans and transported to waste processing facility.
CURRENT SCENARIO
As of now, 100% of household wastes are segregated at source and are processed. Ten ultra modern mechanized transfer stations are used for final processing and disposal. The city makes use of ICT based devices and Weighbridge mechanism for sustainable integrated solid waste management systems. For road sweeping purpose, Ultra modern mechanized road sweeping machines are used, which clean the bypasses, super corridors and bridges.
The city uses a collection and transportation app which is fully digital in nature for monitoring entire process, from door to door segregation to final disposal of waste. The wat wastes are processed and are used in public transports and today 15 city buses operate on this bioCNG gas. Similarly, construction and demolition wastes are reused for making non-structural concrete, paving blocks, lower layers of road pavements etc.
Through the process of bio-remediation, 100% of wastes has been remediated and 100 acres of land has been reclaimed. The dumping yard or landfill site had been converted into green belt. There is a proposal to develop this land into a golf course and city forest.
The entire journey of Indore has been based on more that 3Rs- reduce, reuse and recycle. These include Food Bank, disposable free events, Bartan Bank, art and crafts made out of wastes etc. All these initiative have ensured sustainability of the city.
Other than all these technical strategies, the city also took many social media initiatives and Information, Education and Communication (IEC) techniques for ensuring community Engagement. The song, "HO Halla" by Indian singer Shann became the Swachhta Anthem of the city in 2017 and motivated the citizens to keep doing their part of work towards this Swacchta mission. The song also has many new versions.
CONCLUSION
Since 2016, Indore went through a commendable journey for providing its citizen the urban environment which will protect their health. The IMC took strategies which are the most efficient and using them, it eliminated garbage dumps, 100% household waste collection and segregation, reusing all the wastes etc. The success of Indore's solid waste management shows that other Indian cities can also clean the entire area and make it more hygienic and sanitized for the people by engaging NGOs, private bodies and citizens.
Thus, trust between all the stakeholders being involved in the process is the major pre-requisite for achieving the goal.