As Corona virus keeps on getting bigger and spreads so is the technology and innovation. It is making peoples life easier in the lockdown by keeping us all virtually connected. Technology is helping the authorities fight this virus.
The Drones in the Skies-
These flying camera birds are helping in patrolling and making sure evrybody is maintaining social distancing. They help the officials check on things and also maintain social distancing at the same time. In remote areas agricultural drones were used for spraying disinfectants. In some parts of the country theyare being used to deliver crucial medical supplies.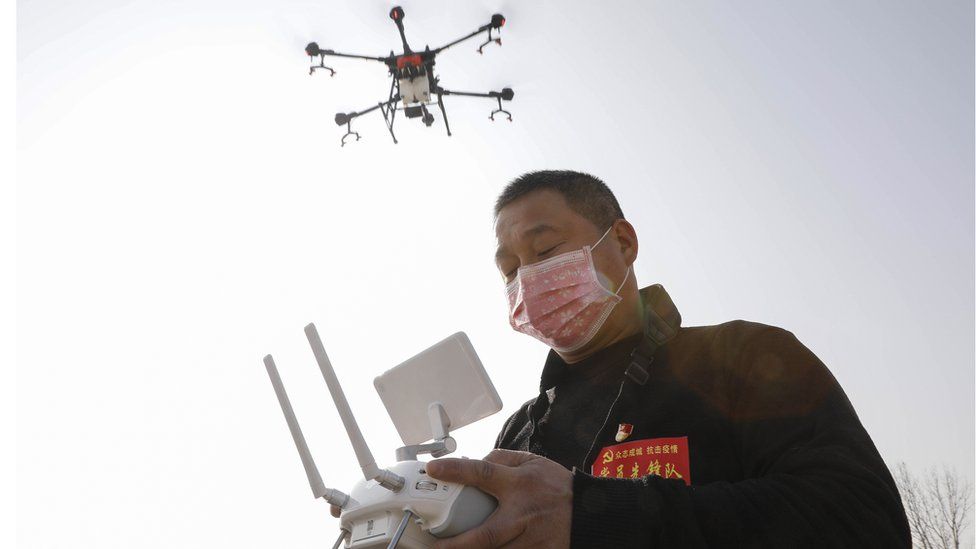 Online Clinics and Counseling-
Due to this one illness other diseases have lost its importance. People suffering from issues like hypertension and arthiritis are being provided with online medical assistance. Many institutes are also offering online psychological counseling service.
Robot nurses and Artificial Intelligence scans
Robots are also used in many Chinese hospitals to deliver food, medicine and other supplies to patients; to disinfect hospitals and other public areas; to check patients temperatures; and to answer common questions. Coronavirus is being diagnosed using AI, which can read thousands of CT scans in 20 seconds with an accuracy rate of 96%.
Virtual Classrooms
After weeks of schools being closed, possibly the biggest challenge for parents is keeping children occupied and continuing their schoolwork. To enable this, many schools have rolled out online learning platforms, where students take courses and teachers give lectures from home, via live-streaming platforms.
Research and Development
Within the first few weeks of the virus, China had sequenced the genome. By posting that sequencing online, it trigged a ripple effect in research labs across the world, with a surge in orders for synthetic samples of the virus to build copies of it from scratch. This allowed new treatments to be trialed – even experiments that failed offered vital clues in guiding researchers on where they should focus.
Smartphones and Internet
Smartphones are playing a critical role in reducing exposure. Delivery apps offer contact-less delivery, whereby drivers drop food off at a specific point – including a card stating the temperature of everyone involved in cooking and delivering the food. Another offers users maps marking residential communities with confirmed cases and their proximity to them. Meanwhile, mobile payment apps are reducing transmission along paper money, which can carry viruses for up to 17 days. With the world's highest penetration of e-wallets and two of the world's largest mobile pay, Chinese fin-tech is helping to slow the coronavirus spread.
Work From Home
A major challenge during the virus is being able to work. Several tech companies are offering free online collaborative tools. Other businesses have quickly adopted work-from-home policies, using online meeting software, collaborations platforms and LBS technology to clock in and ensure employees stay home. At UNDP, the use of Zoom teleconferencing and ERP Platforms have allowed us to keep working.
Virtually Connected
Compulsory quarantine has disrupted daily life and curtailed social interaction for nearly one fifth of the global population. This is leading millions to meet online instead. Families dine together with relatives in distant cities, raising a glass to each other on camera. Even weddings have been held in Virtual Reality.
While the use of technology can at times present its own challenges, and fuel debates about privacy and public good; in the fight against the coronavirus, it is playing a critical role in offering treatment, information, support, food, schooling and greater safety for many.