Cardboard boxes that have been used for generations and thrived in the age of e-commerce continue to flourish or could the cardboard box be facing a new challenger? Cardboard boxes are a very big deal within the U.S. The United States is the Saudi Arabia of trees. Someone's going to make the first box and that's almost inevitably a mill generally in the Southeast United States. China certainly doesn't have trees and India the extent they do have trees they're not necessarily the right types of trees and shouldn't be dedicated towards making boxes for us. The box business grew rapidly up through 1999 when the U.S. coordinated box market had its peak shipment. Starting in the early 2000s the U.S. corrugated box market faced multiple economic obstacles.
The great recession dragged on box demand and even after the recession demand continued to slow for commodity like soda and for the boxes that transport them. The move to digital devices also coincided with a drop in demand for copy paper and newsprint. But box makers found a grace in e-commerce sales and Amazon sale specifically which were growing at mostly integer rates within the recession and post-recession years. Those e-commerce sales have become a significant market for the containerboard industry. In 2018 told a U.S. e-commerce sales were estimated to be $512 billion almost 50 percent higher than in 2015. Amazon captured 48 percent of those sales. Most estimates are that e-commerce accounts for about 10 percent of the U.S. box market. Amazon accounts for close to 5 percent of U.S. box demand. By our estimates they are clearly the single largest box user in the US. International Paper with a third of the market I think does closer to 50 percent of all the amazon boxes evidently they got a bit more share than perhaps some of the smaller players.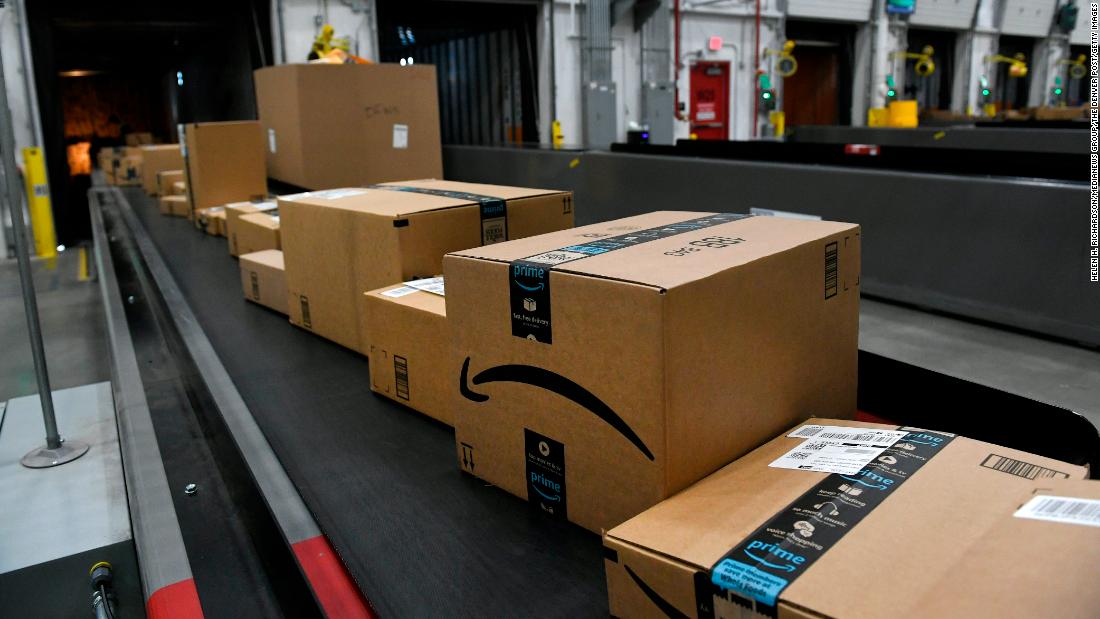 Amazon said they deal with most of the big box makers across the U.S. according to analysts. Those manufacturers include International Paper, WestRock, Packaging Corporation of America and Georgia-Pacific. Some investors were turning to these companies as a way to invest in the e-commerce giant without having to purchase Amazon's pricey stock. People didn't really start talking about buying International Paper or WestRock as a secondary investment in Amazon till about the last five years. Despite the boost from e-commerce sales the box business still isn't growing all that much. And since 2018 their stocks have mostly underperformed the S&P 500. In 2018, 69 percent of International Papers total revenue came from the box business and that sales volume has been mostly flat for the past five years. Although the big producers sold less boxes in 2018 than in 2000, industry consolidation has dramatically narrowed the fields.
The handful of big players remaining are based in Memphis, Tennessee, Atlanta, Georgia and Lake Forest, Illinois. Analysts have told CNBC that substantial industry mergers have made it easier to collectively hike prices and those price increases have helped drive revenue. There are portions of the business that are in indisputable secular decline but if you're in the brown part of the business, making these boxes, that's been some very welcome growth. But those extra boxes piling up on people's doorsteps have led to a backlash from disgruntled customers who are sick of receiving golf ball sized products in supersized boxes. It used to be that you'd order a toothbrush and it would come in three giant boxes and you'd say to yourself, what is this? Well, Amazon is trying to rectify that by using fewer boxes and using other types of packaging where appropriate. With e-commerce packaging underfire Amazon decided to change the way they do shipping. In 2008, Amazon introduced the Frustration Free Packaging program. It aims to reduce the extra packaging created when retail packaged products are placed inside Amazon boxes to be shipped. Instead, products certified in the program that are roughly the size of a blender or larger need to be packaged in their own ready to ship boxes. And those boxes also need to be made of 100 percent recyclable materials. For customers that means that the packaging is easy to recycle and the box is easy to open without all the excess packaging materials.
Amazon offered vendors an incentive of a dollar per shipment to modify their packaging. And starting August 1st 2019 Amazon is charging a $1.99 penalty for each product shipped that needs to be reboxed. And basically the point of this deadline is for Amazon to get out of the business of packaging. They want their vendors to send them boxes that Amazon doesn't have to touch or rebox. Over the last two years we have invented two different kinds of flexible mailers. One is the blue and white all plastic mailer. We've recently launched in the last six, eight months a paper padded mailer that's actually fully recyclable with the paper stream. Amazon said they made about 10 million shipments using the paper padded mailer and depending on the month the plastic mailer is used about 20 to 30 percent of the time. So really when we come down to deciding if the product is of the size it can go on a mailer, it's not likely to be damaged by going in the mailer, the mailer is always the better fitting option and frankly is easier for the customer to choose to recycle than breaking down a corrugate box. We're driving in that direction for many different reasons. But those plastic mailers generally are not accepted in municipal recycling programs and you'll need to bring them to a store that accepts plastic bags. The latest stats from the EPA show that corrugated boxes were recycled at a rate of 92 percent in 2015 while plastic bags, sacks and wraps were recycled at a rate of 13 percent in 2015.
When you think about what is the greatest pain point for the consumer after having it get there safely arrive on time people are concerned about receiving something that is plastic or made a poly because of the environmental concerns. Some waste management companies say plastic packaging also causes problems for the recycling systems. Plastic mailers get caught in the recycling machinery slowing down the process and raising the costs for recyclers and sometimes contaminating entire bundles. Until Scotty on the Enterprise can beam the products from the warehouse to your living room I think Amazon's going to be good for the corrugated business. I think there's going to be noise I think you're going to have challenges from time to time where people say, "Should we try and the plastic pouch?", in the long run plastic is going to be on the wrong side of history. Because Amazon is a market leader in the U.S. e-commerce sector any move away from cardboard to plastic mailers could signal a shift for the entire industry. The corrugated box could be about to undergo a major facelift. We're seeing some major trends among consumers and what they're expecting from e-commerce and the first one is actually this desire for increased engagement with the package. In 2015, Amazon partnered with Universal Pictures and Illumination Entertainment to ship orders in bright yellow delivery boxes featuring cartoon characters from the movie Minions. The boxes promoting the movie and a special Amazon U.R.L. dedicated to shopping for merchandise from the film.
Categories: book reviews, Business, Editorial, Education, Entertainment, Health, India, Jobs, law and order, Literature, News, News Analysis, Personality and Self Help, Science, social issues, World