As the world entered the era of big data, the need for its storage also grew. It was the main challenge and concern for the enterprise industries until 2010. The main focus was on building a framework and solutions to store data. Now when Hadoop and other frameworks have successfully solved the problem of storage, the focus has shifted to the processing of this data. Data Science is the secret sauce here. Data Science is a blend of various tools, algorithms, and machine learning principles with the goal to discover hidden patterns from the raw data. But how is this different from what statisticians have been doing for years? The answer lies in the difference between explaining and predicting.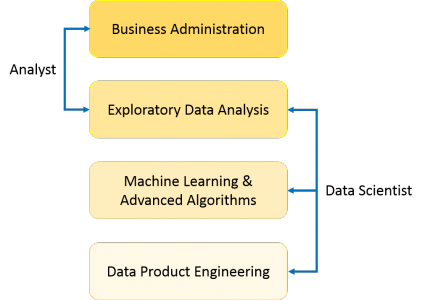 From the above image, it is clear that a Data Analyst usually explains what is going on by processing history of the data. On the other hand, Data Scientist not only does the exploratory analysis to discover insights from it, but also uses various advanced machine learning algorithms to identify the occurrence of a particular event in the future. A Data Scientist will look at the data from many angles, sometimes angles not known earlier.
So, Data Science is primarily used to make decisions and predictions making use of predictive causal analytics, prescriptive analytics (predictive plus decision science) and machine learning.
Predictive causal analytics – If you want a model that can predict the possibilities of a particular event in the future, you need to apply predictive causal analytics. Say, if you are providing money on credit, then the probability of customers making future credit payments on time is a matter of concern for you. Here, you can build a model that can perform predictive analytics on the payment history of the customer to predict if the future payments will be on time or not.
Prescriptive analytics: If you want a model that has the intelligence of taking its own decisions and the ability to modify it with dynamic parameters, you certainly need prescriptive analytics for it. This relatively new field is all about providing advice. In other terms, it not only predicts but suggests a range of prescribed actions and associated outcomes.
Machine learning for making predictions — If you have transactional data of a finance company and need to build a model to determine the future trend, then machine learning algorithms are the best bet. This falls under the paradigm of supervised learning. It is called supervised because you already have the data based on which you can train your machines. For example, a fraud detection model can be trained using a historical record of fraudulent purchases.
Machine learning for pattern discovery — If you don't have the parameters based on which you can make predictions, then you need to find out the hidden patterns within the dataset to be able to make meaningful predictions. This is nothing but the unsupervised model as you don't have any predefined labels for grouping. The most common algorithm used for pattern discovery is Clustering.

Why Data Science?
Traditionally, the data that we had was mostly structured and small in size, which could be analyzed by using simple BI tools. Unlike data in the traditional systems which was mostly structured, today most of the data is unstructured or semi-structured. One can understand the precise requirements of your customers from the existing data like the customer's past browsing history, purchase history, age and income. No doubt you had all this data earlier too, but now with the vast amount and variety of data, you can train models more effectively and recommend the product to your customers with more precision. The self-driving cars collect live data from sensors, including radars, cameras, and lasers to create a map of its surroundings. Based on this data, it takes decisions like when to speed up, when to speed down, when to overtake, where to take a turn – making use of advanced machine learning algorithms. Data from ships, aircraft, radars, satellites can be collected and analyzed to build models. These models will not only forecast the weather but also help in predicting the occurrence of any natural calamities. It will help you to take appropriate measures beforehand and save many precious lives.
The following infographic shows the various domains in which Data Science is creating its impression: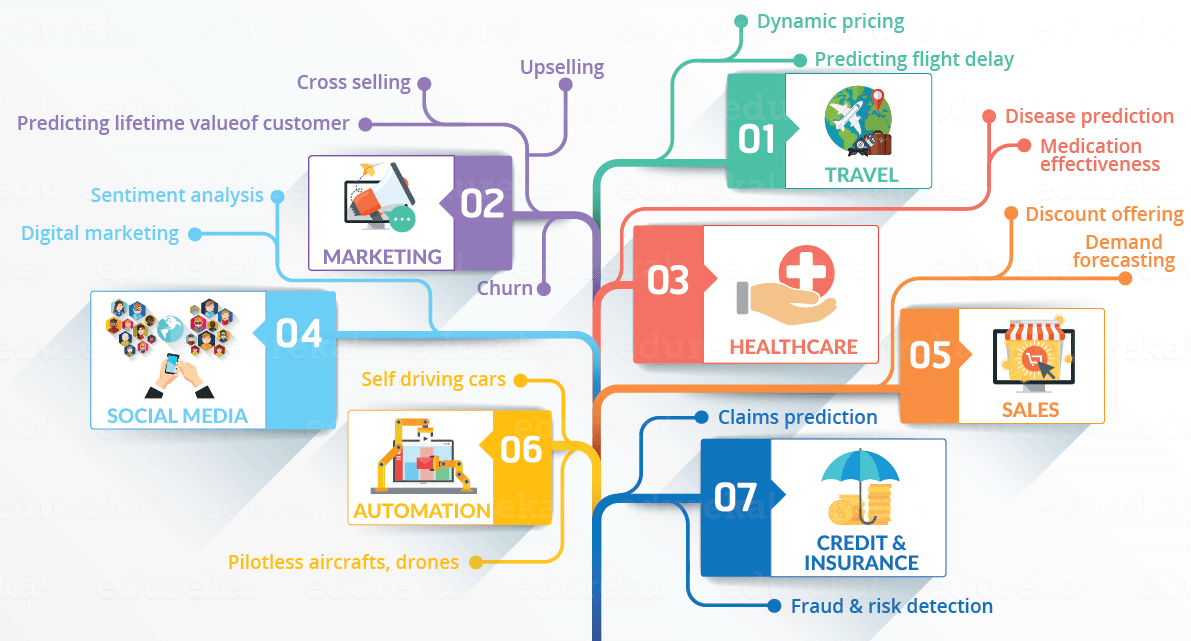 Role of a Data Scientist
Data scientists are those who crack complex data problems with their strong expertise in certain scientific disciplines. They work with several elements related to mathematics, statistics, computer science, etc (though they may not be an expert in all these fields). They make a lot of use of the latest technologies in finding solutions and reaching conclusions that are crucial for an organization's growth and development. Data Scientists present the data in a much more useful form as compared to the raw data available to them from structured as well as unstructured forms.